🔌Plugin for automatic identity verification (KYC & AML) on HollaEx Kit and for traders all new account level tiers on the HollaEx Exchange
When it comes to registering on financial service like a bank you might be asked to come in person to complete the process, this could mean queuing and doing everything all at once on the spot, and what a big waste of resources it is for everyone.
Thankfully, because of crypto's global nature, waiting in a queue in person is not expected. Still, though, this makes for a tough job exchange operator and a bumpy online process for the user.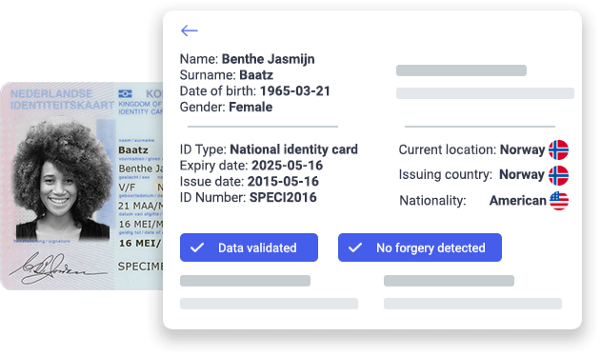 To deal with countless identity verifications coming globally from all directions the crypto exchanges had to innovate.
In fact, you can say crypto exchanges were really the first major adopters of automatic KYC (know your customer) systems. It was pretty much the only way to keep up with demand from the sheer amount of user sign-ups during bull cycles.
With the help of recent advances in image scanning technology, much of the manual KYC processes can be outsourced to specialized services.
These systems work by utilizing cameras on phones or PC and laptops, using smart face recognition algorithms that read the 3D topology of faces to make sure the person is real and that they match the documentation. The data is then cross-checked with various country's ID formats to make sure with a high level of certainty that they are indeed legitimate documents.
Automatic KYC also allows for better management of sensitive data with encrypted and safe storage, allowing operators to focus on their crypto business.
The HollaEx Kit with the premium automatic KYC plugin is now allowing exchange operators to take full advantage of these recent innovations in KYC tech right on their very own exchange!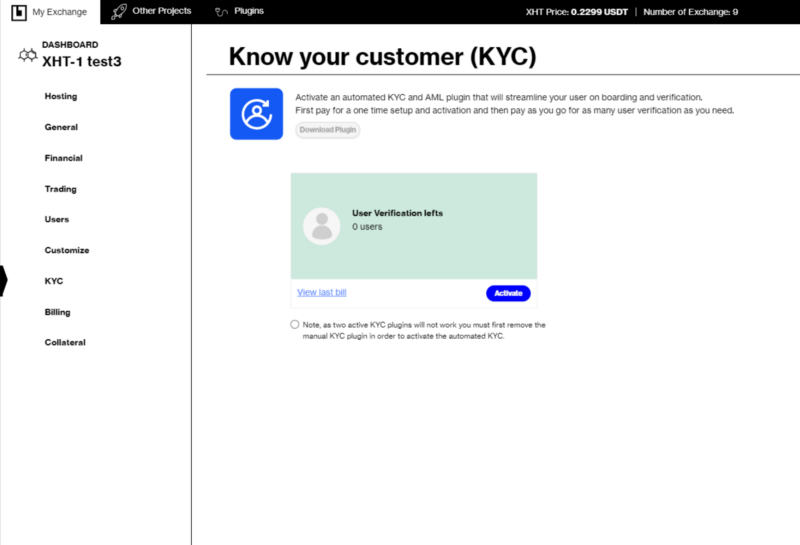 Saying that, the manual system for handling KYC on HollaEx Kit will always remain as an option for those that want to manage KYC and AML themselves.
But for those that want to reduce their operational workload while improving their user experience, the new automatic KYC system is now there for operators to activate (one-time activation fee applies). After activation, operators can refill or change the number of verifications that their users can use on their exchange as they see fit.
Along with the new automatic KYC system, there will also be a revamp to the HollaEx Exchange. Any users of the exchange or any budding exchange operator looking to test the KYC system can go to the official HollaEx Exchange and try the auto KYC for themselves. The whole verification can take as little as 5 minutes if documents are on hand.
---
👷 Operators view of the premium KYC Plugin
As an operator, if you want to activate the new automatic KYC system you can do so on the dashboard. Simply, login to the dashboard, click 'KYC' on the left-hand sidebar (under) 'Customize' and you will be faced with information on how to activate the automatic KYC plugin so that you can download it and add it to your exchange.
Simply click the blue 'Activate' button and select the number of users you'd like to be verified. These are bankable user verifications that can be paid for and charged as you go. Each time a user uses the KYC verification service they will be taken to a separate page to complete their verification. This can take 5 minutes as long as the user has their ID documents ready.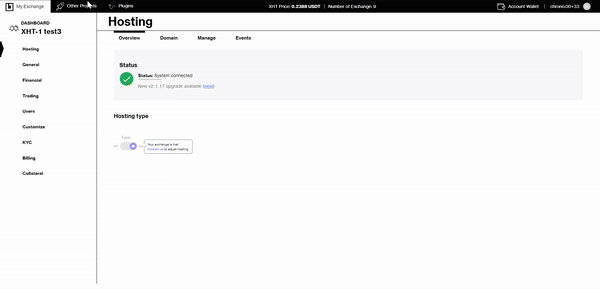 It is worth noting there is a one-time activation fee, after which exchange operators are only required to pay for their user verification. There is also a discount of 13% when buying bulk user verifications (even more discounts ontop for XHT payments).
Paying for verifications can be done with cryptocurrency, bank wire, or PayPal, following the same payment process as purchasing a cloud plan. You will be directed to the billing page to complete the payment, after which you will see the number of verifications left displayed on the card and the 'Download Plugin' button now clickable.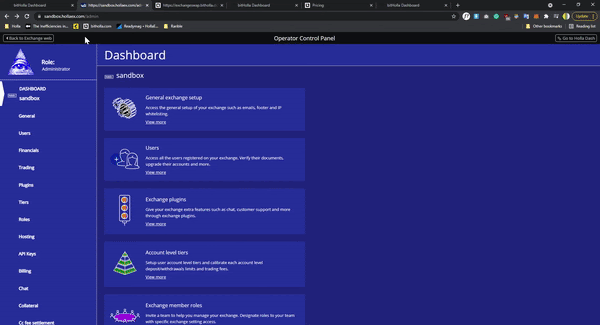 When you download the plugin you will receive a JSON file. To install the plugin on your exchange you should log in as an administrator on your exchange, navigate to 'Plugins' and click 'My Plugin' tab then click the green button 'ADD THIRD PARTY PLUGIN' and upload the JSON file. This will activate the plugin which means all your exchange users will now be taken to a new automatic KYC page (Idenfy).
How does it look on a user's profile page? Pretty much the same. When you go to your operator control panel (blue admin) as an exchange operator you'll be able to see the ID data uploaded from your users in the same place.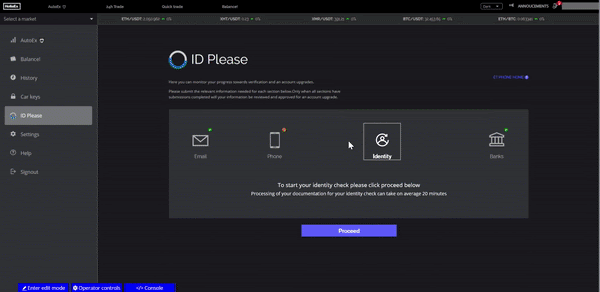 As an admin of the exchange, you will be able to override the verification (accept or reject) as well as add a rection note that will inform user and to inform other exchange system operators.
An added benefit of using the automated KYC system is that it has an inbuilt AML check system. You also can avoid unnecessary operational complexity when it comes to storing sensitive data, leaving you with one less thing to worry about.
Once all is set the Automatic KYC plugin will replace the manual KYC plugin, in other words, there can only be one KYC system active at a time, either automatic or manual KYC system.
---
👱 The user view of the new KYC system
For regular exchange users, they will have an enhanced verification experience that is 5x faster and less cumbersome.
As a user going through the automated verification, you will be taken to a specially designated KYC page where you are asked to select the type of document you have to submit. You can then use the camera on the phone or computer and it will automatically upload it. This could be a passport, driver's license, or government-issued ID depending on the country selected in the first step.
After uploading the document a user will be asked to show their face with instructions on how to position themselves best for the camera. This step is done in 10 seconds, after which they will be required to wait for a few minutes while their information is being processed. From a user perspective, they are done and can return at a later time to their account being fully verified.
If there are issues with the process, the system will automatically request for the user to do the process over.
Overall the speed and accuracy of an automated KYC system is leaps and bounds ahead of a manual KYC system and provides a better overall user experience that is standard for most crypto exchanges today.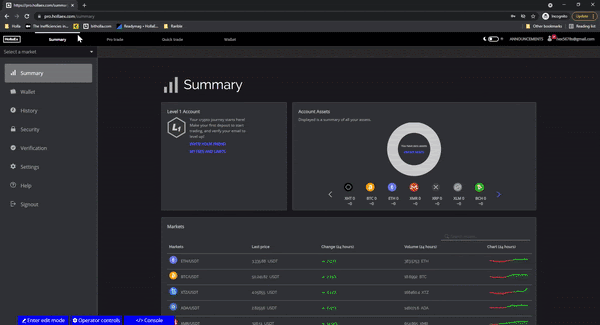 ---
🛡️ New user account level tiers on HollaEx Exchange
HollaEx Exchange user accounts will also be getting a revamp. Instead of 10 account level tiers, they will be consolidated into 5, making for a simpler to follow fee and limit structure as well as clearer requirements to obtain higher account level tiers.
Just like most other crypto exchanges, to obtain higher account tiers basic verification is required and after which they can be upgraded into Ruby, Diamond, VIP trader, or even Market Maker account tiers, depending on trading volume and XHT balance amount.
Traders that want to obtain the higher ranks are required to trade over a certain amount of crypto on the platform (detailed on the exchange) and/or should hold a balance of HollaEx Token (XHT).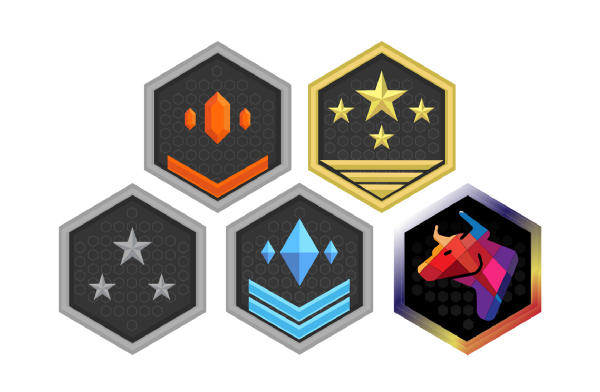 XHT can also be used by exchange operators using the HollaEx Kit software to activate features on their exchange such as new coins and trading pairs.
To obtain XHT simply navigate to the XHT/USDT market and place a buy order with USDT.
Lastly, a special trading account tier for Market Makers is reserved for those that can help provide liquidity to the HollaEx ecosystem and requires the market maker to get in touch.
---
👉 Get started
If you are an operator of exchange using HollaEx Kit, go to your exchange dashboard and KYC to activate.
If you are a user of the HollaEx Exchange, go to the verification page and click proceed and level up your account tier by completing the KYC process.
---
Want to start your own crypto exchange today? Start free here or get a free exchange consultation by contacting sales@bitholla.com
You can check out Idenfy to learn more about the automated KYC and AML plugin technology used within HollaEx Kit.

🔎 For other crypto industry and bitHolla news, check us out on Twitter, LinkedIn, Facebook, and our website!