With the number of transactions on the uptick since late March, traders ache for a crypto spring. Still, some cynics are still questioning the price bottoming out.
Call us cautiously optimistic, but we, at bitHolla, are moving forward with more trading features!
April Wins:
New Print Material
Stay current on our offers with the PDF pamphlets of our exchange packages — soon to be added on our website.
Release of HollaEx v1.15
Not only is this version integrated with TradingView to support professional charts, but it also introduces the open-source time series database InfluxDB. No need to refresh: trades, prices and charting are in real-time!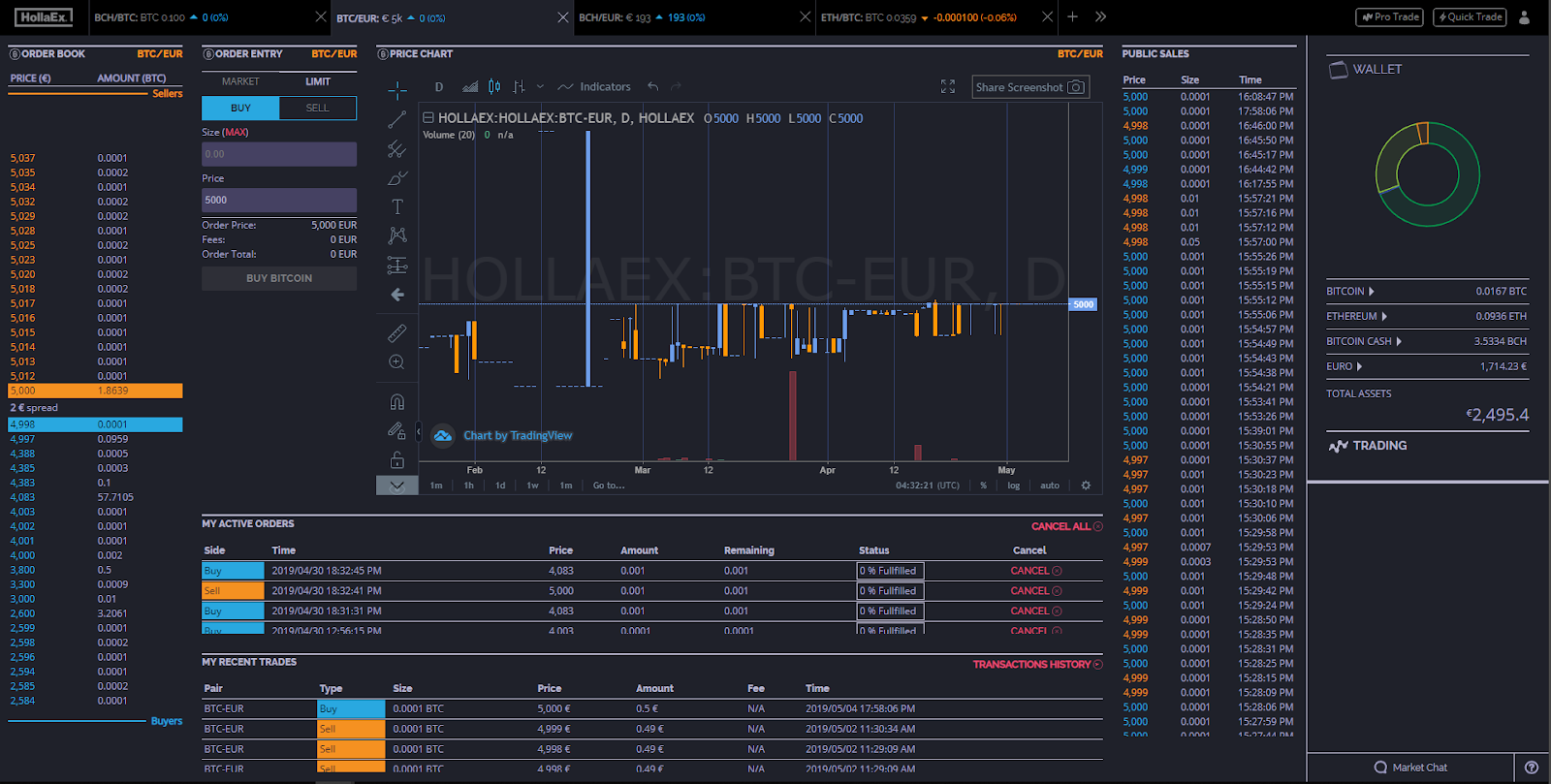 Release v1.0.0 of Robolla
Pull orders from several venues into a single order book to populate your exchange. With Robolla, take advantage of spread trading and remarketing in a few clicks!
Upgrade on XRayTrade
Gear up with advanced orders on our expert trading terminal. Stop, take profit and trailing orders are at the ready to milk the markets!
Our article on smaller Bitcoin blocks
Brush up on the latest episode of the block size debate with our article covering Luke DashJr's proposal. Are 300kB-sized blocks the future of Bitcoin?
Our article the Blockchain Spectrum
Not all chains are created equal, which is why we review the most relevant blockchains out there. For informed choices, check out their pros and cons according to our Spectrum!
Headway
In-house
Welcome to a new Software Engineer at our Seoul offices!
Leads for May:
Launching the HollaEx mobile app.
Further improvement on Robolla, with our upcoming feature "bargain bot". The latter will execute orders from other bots while hunting for the cheapest order placement.
Refining hollaex-cli, our tool to configure and customize any hollaex-based exchange.
Working on the business design for connecting XRayTrade, Robolla and Project Bridge to a single platform.
Look out for next month's newsletter for more updates and events happening with bitHolla!

For more crypto industry and bitHolla news, check us out on Facebook, Twitter, LinkedIn and our website!