Time moves quickly in crypto land. It is easy to get whiplash…
📅 What feels like 6 months was actually ~3 which was when we posted our last newsletter. Since then a lot has happened and now it feels like we are entering a different crypto landscape! In this report, we will give our thoughts on the crypto industry and share bitHolla company updates for the last quarter!
To start, we've seen a number of institutional plays from major names. First, Fidelity is expanding its crypto services with their recent trademark filing name 'Wise Origin' for what looks like yet another bitcoin fund.Fidelity CEO Abigail Johnson has also publicly said Fidelity has been mining bitcoin showing how far they are willing to go to better understand the technology.
MicroStrategy has announced they will move their fiat reserve into Bitcoin due to "…a significant depreciating effect on the long-term real value of fiat currencies…"
Paul Tudor Jones American hedge fund pioneer is turning to Bitcoin to fight inflation caused by coronavirus stimulus measures.
And finally, Grayscale Investment the largest bitcoin fund has increased its holding again by 90% in the quarter.
What do all these events have in common? These are strategies built to manage the debasement of fiat currencies. Is this an on-going trend? We shall see, but what is certain is that 2020 will be known for the virus and whirring sound of money 🖨️ printers.
What about recently? Well, a curveball has been thrown in the industry with the likes of decentralized finance, AKA DeFi, exploding a whopping 8x ($8 billion) since we last mentioned it in the bitHolla newsletter back in June.
Whether or not DeFi is sustainable, who knows, but what is certain is that it has fostered a new 🌊 wave of interest that feels eerily similar to the ICO period back in 2017 — but with more guts.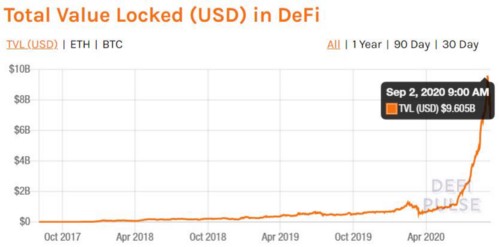 What is DeFi you may ask? Without getting into the weeds, it can be almost any project built on the Ethereum blockchain these days.
More specifically, DeFi projects are those that use the ETH blockchain to verify every action, for example, a crypto trade/swap. In effect, these projects are outsourcing the heavy lifting to the blockchain in a bid to leverage 'decentralization'.
Don't get it? That's okay, you can get into the ✨ razzle and dazzle here .
But! and that's a big but, dumping everything on a blockchain with limited space means somethings got to give and we are seeing that now with high transaction fees on Ethereum peaking at around $20 to do a single DEX trade.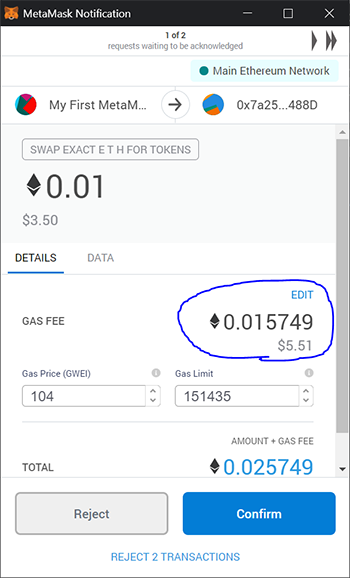 How much people are willing to tolerate in high fees, who knows, but the fee market for blockchain space is one to watch.
In the spirit of things, we too at bitHolla have done our small part to participate in DeFi by integrating one of the major DeFi projects Chainlink (LINK) into bitHolla's business crypto wallet Vault. Now all projects using Vault can now offer their users LINK. This means every exchange operator using the HollaEx Kit are also able to offer LINK wallets and LINK trading pairs. Just watch out for those high transaction fees!
---
⛵ Steady as she goes!

At bitHolla, we've been pushing 3 major fronts.
First, we've made HollaEx Kit significantly easier for businesses to use through a streamlined step-by-step wizard.
Second, liquidity solutions have greatly improved through our trading bot Robolla and soon to be operational HollaEx Network (more on that later).
Third, more trading features throughout our trading product range.
Get the bitHolla highlights 👇
HollaEx 2.0 development is underway! The major change coming includes an improved way for exchanges to access crypto liquidity, while not requiring hefty sums of locked-up capital. Also, an improved exchange admin interface to manage all aspects of the exchange and some exchange direct editing features for easy exchange rebranding and customization.
6 new exchanges are now promoting their newly created tokens powered by HollaEx Kit, effectively bypassing the long and expensive listing fees on major exchanges by going direct with the token sale by using the HollaEx Kit.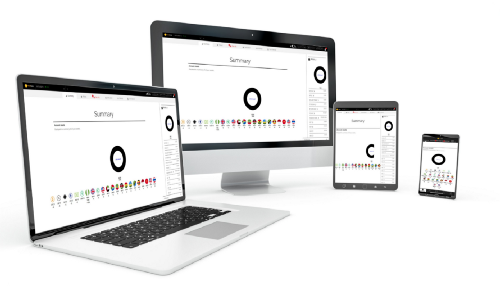 KoinKoin exchange an early pioneer utilizing the HollaEx Kit now supports the many major currencies from the African content (KES, GHS, RWF, TZS, and more) KoinKoin is among a small few exchanges to offer a full-fledged hybrid crypto FOREX trading experience. Contribute/invest in the KoinKoin project here.
The team at Fine Exchange, have made great strides with their sleek and simple automatic trading made system based on the HollaEx Kit. Anyone can get in early and contribute/invest in the Fine Exchange here.
Robolla the trading bot 🤖 is now working even harder on an ever-growing list of exchanges. The trusty bot has been updated to 1.10 and can now market-make on Bithumb Global exchange.
Starting a cloud exchange has become even easier with just a few clicks anyone can have their own exchange in ~5 mins. As one of the major goals, the ease and simplicity of starting an exchange will only get easier, just like starting a WordPress site.
As bitHolla has picked up steam so has the media coverage. Read the top 5 bitHolla in the media moments:
1. Top blockchain companies in Korea
2. Demand for exchange software as industries move towards tokenization
3. Review: The best crypto exchange software for your money
4. The rise of trading products
5. 10 reasons to run your own crypto exchange business
We've released a brand new intro video showcasing the HollaEx Kit.
It is now even easier to find us! Just search 'exchange software kit', 'open-source crypto exchange', and 'review crypto exchange software' and you can find some useful guides and content about starting your own exchange. Better yet you can just search our company name or products on Google or YouTube.
XRayTrade beta now works for basic trade execution and can manage your order and trade data for HollaEx exchange and BitMEX. Although in its infancy you can execute trades directly on the orderbook, saving you time from manually entering tedious orders. Just click and trade. Access the beta here.
HollaEx exchange, our flagship crypto exchange using the open-source exchange kit is now compatible with multiple third-party site and app! Have you ever wanted to see a timeline of your HollaEx crypto portfolio? Well, now there is an app for that called The Crypto App. Imagine that! Just, input your API keys and you can see your portfolio numbers and chart go up!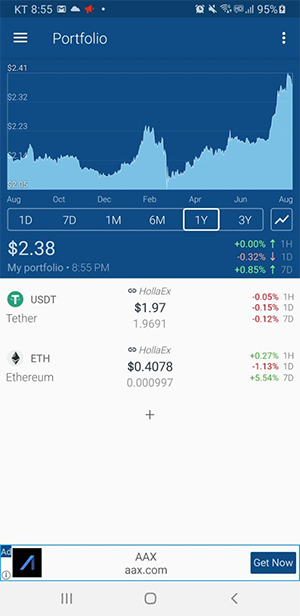 ---
🆕 HollaEx 2.0:
Shared liquidity across exchanges in the HollaEx Network. This will allow any exchange to tap into crypto liquidity from a shared pool making the exchange instantly liquid with popular crypto pairs. An extremely low usage fee rate will be applied to access the pool, while Holla members that collateralize their exchanges get free access to the pool! More on that next update!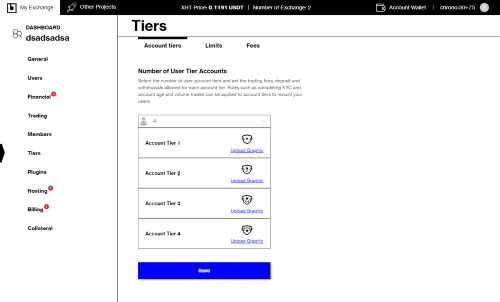 New coin and trading pair support for exchanges right in the dashboard. This incoming update will give more coin asset and pair control that allow the master admin to setup important businesses related matters such as the exchange hosting, trade, and finance specific setup without having to delve into the code!
New Holla Dash will sport even more powerful tools for the exchange operator. These extra controls will help operators get up and running faster and once running allow for smoother exchange management and monitoring.
As bitHolla's Vault wallet becomes omnipresent in various crypto projects a need for a dedicated Vault website has come about. Clients of Vault can now better manage their crypto wallet custody systems.
🔜 Incoming:
All HollaEx Kit enabled exchange will be granted instant crypto liquidity from a shared crypto pool. This means all exchanges out of the box will have access to the HollaEx Network crypto liquidity 💧 pools which means full orderbook and from day one.
Streamlined coin/token 🏭 factory built right into your exchange admin dashboard. Create new assets and pair them up on the fly. If you have an idea for a token the exchange kit is for you!
Coming soon is a way to directly edit/customize ✏️ your exchange through a dedicated interface. Invite specific team members to handle the content of your website and manage users in a secure way. Team members for your exchange with the support role can now do edit basic exchange elements such as labels, title/headings, language, and monitor user needs in a more intuitive way.
And finally, a number of incoming crypto projects are under construction 🚧 using the HollaEx Kit! Anyone can get early access to the latest projects on the public HollaEx projects page here👈. The projects page allows anyone to contributes/invests in any project and earn the limited supply of XHT tokens back overtime in a mechanism similar to token staking.
— Ali Beikverdi, CEO
bitHolla Inc.

For more crypto industry and bitHolla news, check us out on Facebook, Twitter, LinkedIn, and our website!