Where we think the crypto industry is heading, the HollaEx network, and the future of crypto liquidity
I skate to where the puck is going to be, not to where it has been"
— Wayne Gretzky'
It's one of the most overused quotes in business.
Steve Jobs used it, Warren Buffet used it, and now, why not, we'll use it too.
So without sounding too clichés… let's go to where the puck is heading.
What we've seen in 2020 and what's to come?
Just like in 2017 we've seen a resurgence of crypto-based projects in 2020. Most of these projects have their own unique token, coin, or digital asset.
But here is where we see a major hurdle for these coin creators…
Most of these new assets/coins never find a home and remain unlisted and undiscovered but why, below are the top reasons:
The cost to get listed on any platform is high
Once listed there isn't much control over listing making branding and marketing difficult
Combine both of the above and the time and cost to manage the coin will begin draining the project of resources thus making it difficult to build anything of substance
Many fall into this never-ending loop of 'managing' the token, which results in nothing getting built.
With DeFi and DEXs things are slowly changing because now anyone can list their ERC-20 token on Uniswap and the like.
But relying on DEX has its own set of unique problems.
When listing on these decentralized platforms the marketing, user-experience, and much of the control will naturally be sacrificed which can hurt smaller projects that need that fine-grain control and edge.
For example, just try getting your logo added and name searchable to any of these platforms and you will soon find it's the same gatekeeping issue all over again.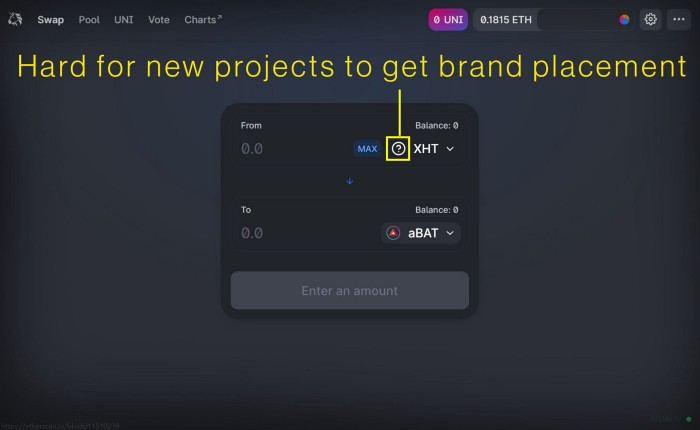 This makes building a product and brand an uphill battle.
To summarize, bootstrapping in crypto is hard. The price discovery mechanisms expensive, the customizability non-existent.
That's until HollaEx 2.0 and the liquidity exchange network. Read on below to for a 👀 glimpse of the future.
---
Introducing the exchange network 🌐
Introducing HollaEx 2.0 and the liquidity network a system that allows anyone to begin a customizable crypto exchange with the major liquid market. To see a live demonstration of an exchange set up watch the YouTube video here.
All that's required is to connect a domain, host the exchange yourself or go with a cloud subscription and you've got a market that is completely customizable with full order books from day one.
We are excited to get his out to the public but while it's being built you can get a sneak preview of what has been in the works below.
---
Automated crypto ☁️ cloud exchange
Crypto is all about the speed and control over your stuff!
That's where the cloud exchange comes in. The coming cloud exchange solution is full crypto exchange infrastructure on-demand!
For a small hosting fee, you can get your exchange up and running without having to delve into all the technicalities of domain hosting and will include built-in major liquid markets such as BTC/USDT and ETH/USDT.
Cloud exchanges are perfect for anyone without the tech or blockchain know-how to try HollaEx Kit for a super low cost.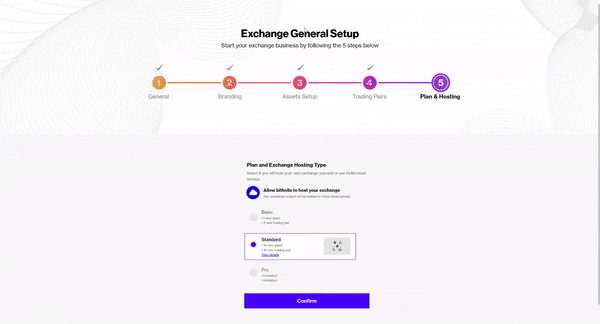 Of course, anyone can start free! Just host the exchange yourself and connect to the network.
Now that's a realDIY exchange style!
---
Unboxing 📦 your crypto project/exchange
You know when you start seeing blue, things are getting real!
On the new HollaEx Kit, once you've connected your own domain name you can go to your domain in your web browser and begin registering your admin account, log in as admin and finish your exchange setup.
After the setup, the real fun can begin with the full exchange customizations.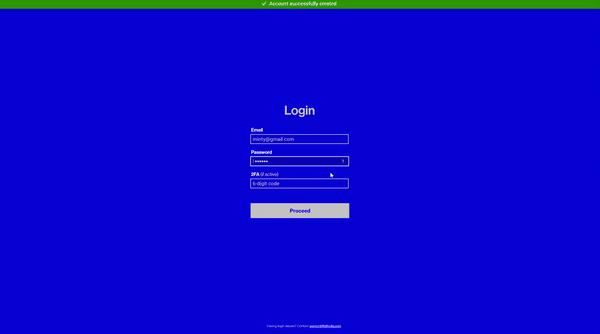 ---
Direct edit mode ✏️ (customize everything)
It's all about the customizations.
With the HollaEx Kit you can customize your exchange on the fly. Every piece of text on the screen, icon, and color can be directly edited in real-time. This functionality is rather novel and is ever-evolving. Anyone can now build a fully themed out exchange, such as a coin specific only exchange (think Dogecoin themed only exchange), or specific country based exchange, or a meme exchange.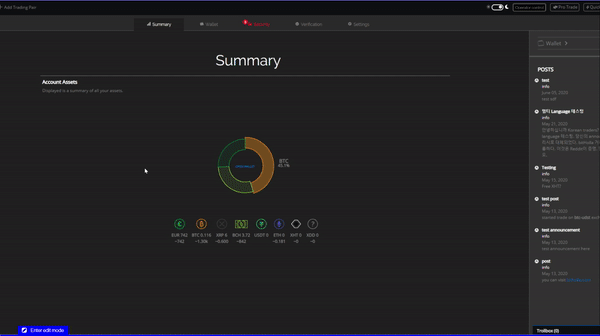 By allowing better editing tools anyone can self-manage their business with everything in one place. This means better brand management and best of all no more dealing with third-party exchanges to switch out minuscule things like logos, labels, and descriptions.
---
Liquid 🌊 markets
Anyone using the kit will have access to the HollaEx liquidity network, that means all customers using the HollaEx Kit can create their exchanges or any crypto project for that matter and be up and running in minutes with active liquid crypto markets like BTC/USDT.
When onboarding your customers they will be able to do all the expected things that a crypto platform can do such as deposits, buy/sell and withdraw right on your website.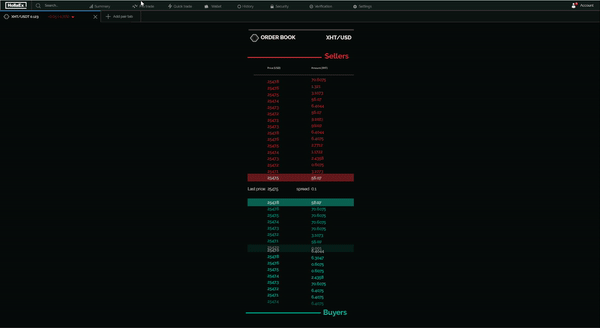 On-demand liquidity can be used not only for exchanges but for different services such as payments, CFDs, and various crypto style broker models. Just build on top of the network whatever crypto-financial application and provide the gift of crypto to your customers.
---
Smooth 😏 operator
Take your crypto business to another level. Introducing the operator control panel (AKA blue kit admin).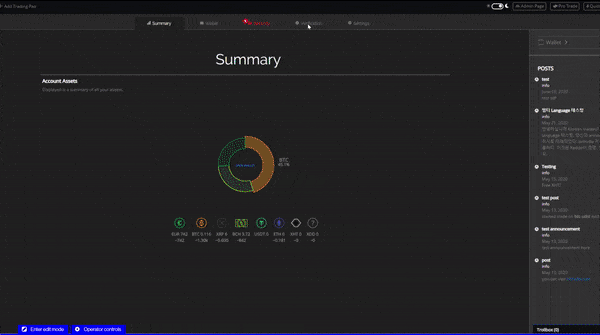 Operators can get into the nitty-gritty of their crypto business by managing users, reviewing finances and creating brand new user account level tiers, and even lowering and/or adjusting trading fees for their customers.
This is where your business becomes real! Just adjust the profit margins that make sense to your business model right in your blue admin panel.
---
See what others are 🏗️ building with the exchange kit
See what others are doing with the HollaEx Kit on the projects page. Anyone using the kit can publicizes their projects for the purpose of raising XHT stake or to simply gain more exposure.
For those exchange operators that stake XHT collateral, they will increase their profit margins depending on the amount staked.
For non-operators, they too can also stake XHT on other projects which will reward back network trading fees earned from exchanges using the HollaEx Kit exchange software. On top of that anyone that stakes XHT collateral will collect bonus XHT tokens as they are minted. Effectively farming XHT from the network of crypto projects using the HollaEx Kit.
Future 🔮 Future
Soon to come all of the HollaEx networks will be on a DeFi contract system, meaning all actions to start a crypto business with the HollaEx Kit will be on a blockchain-based contract making it all autonomous and automated behind the scenes.
You won't need to contact your exchange provider if you don't want to because it's all on the blockchain, just stake XHT collateral, download the software and host it and you're away.

Conclusion
Today you can find a growing list crypto open-source software that allows for the creation of powerful global fintech products and HollaEx Kit is one of those that allows for not only exchanges but so much more. From coin creation, pairing, listing, wallets, and all the crypto stuff between. The HollaEx Kit is the gateway into the crypto-verse.
Start your own crypto business for free today at 🎛️ dash.bitholla.com or see what others are building on the 🚧 projects page. If you are new to white-label products you can learn more about the top solutions here. For those that want to start building right away with HollaEx Kit, you can visit the tech 📄 documentation page to learn how.
Want to start your own crypto exchange today? Start free here or get a free exchange consultation by contacting sales@bitholla.com
---

🔎 For other crypto industry and bitHolla news, check us out on Facebook, Twitter, LinkedIn, and our website!