Fidelity has over $7.8 trillion of assets under management, serves 30 million investors and is one of the largest managers of wealth. Recently, the company shared a post to Twitter that sent shockwaves throughout the blockchain and investor community. Here's what they had to say: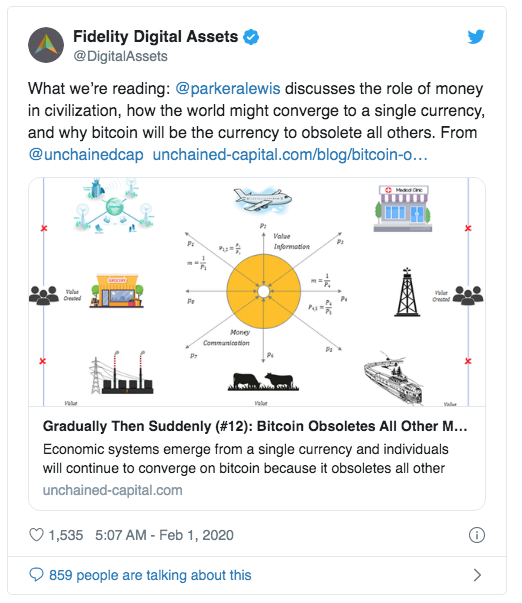 With that being said, you could say that Fidelity knows a thing or two about where the future of money and trade are heading.
The tweet shared by Fidelity was in response to an article published by Unchained Capital, who put forward an argument that bitcoin and cryptocurrencies will naturally make money (fiat) obsolete.

If bitcoin is the next evolution of money and trade, then this begs to question who will be the greatest beneficiaries of this technology? Naturally, the answer lies within crypto exchanges that are capitalizing on cryptocurrency trading by investors.
Think about this for a second, if bitcoin and crypto are able to replace money (fiat) and make it obsolete as Unchained Cap thinks, then in effect, crypto exchanges have the potential to make banks obsolete and dominate the world financial markets.
This is why more crypto exchanges exist today. And, this trend will only continue to rise due to the ease of entry and growing profits. If you're considering opening up your own white-label crypto exchange, our in-depth guide covers everything. Here's what you need to know.
Don't have the time to read 3,500 words right now?Download this as a PDFversion and read it whenever you're ready.
---
What is a white-label exchange?
A white-label cryptocurrency exchange is a piece of software that has been designed to allow new crypto exchanges to launch their own crypto exchange fast. White-label exchanges encompass customizable features, such as:
A trading page
An admin dashboard
User wallets
Trading pairs
A trading engine for market and limit buy/sell orders
Third-party KYC/AML integrations
In-built affiliate and referral systems
Localization
Banking integrations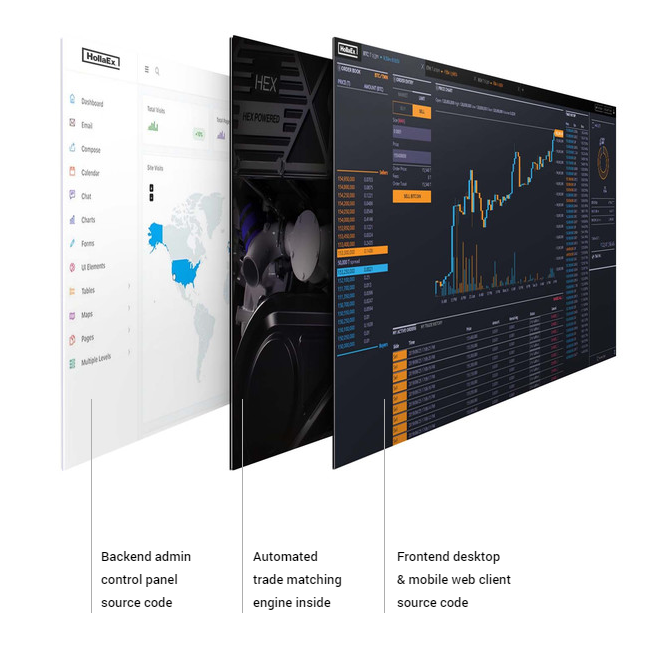 Normally, it would take a company well over a year to create a crypto exchange from scratch, costing businesses hundreds of thousands of dollars in developer fees. Plus, not too mention other technical variables, like:
Finding/hiring quality programmers
Debugging code issues
Project management
UX/UI design
Due to the time, complexities, and cost associated with creating a crypto exchange, many companies have begun using white-label exchange software as an alternative to save time and money. That's because a white-label solution can be deployed in hours or days, rather than years.
---
Why are cryptocurrency projects launching their own exchanges?
Exchanges can be geared towards various markets such as cryptocurrencies, crypto-collectibles, real-estate tokens or stablecoins. The limitations are endless and it really comes down to the imagination of the exchange operator.
That said, here are 6 main reasons why you might want to launch an exchange today:
As a new business. Having a critical piece of the crypto-financial infrastructure can be a good long-term bet as the industry is still growing and its nascent stages.
To get a coin/token listed. For projects that have a coin, they can use a white-label exchange solution like HollaEx to immediately run your own exchange. This helps new cryptocurrencies increase their chances of being listed on popular sites like CoinMarketCap (CMC).
Avoid exchange fees. To list a new cryptocurrency on an exchange can cost as little as $5,000. Or, for more well-known exchanges, the cost can be anywhere between $100,000 up to $500,00 on premium exchanges. As a result, new cryptocurrencies can alternatively, create their own exchange to bypass expensive exchange fees.
Launch and distribute an internal exchange token that is not on the blockchain. This type of exchange can manage all of your accounting and thus defer the complications of dealing with a blockchain.
Expand an existing business. Many traditional financial or even non-financial businesses may want to upgrade their existing infrastructure by offering their services to crypto customers.
Serve the underserved. There are still many countries with limited crypto access that would benefit from having a crypto exchange. Many of these countries are potential high growth business opportunities for crypto projects.
---
Is a crypto exchange a good investment?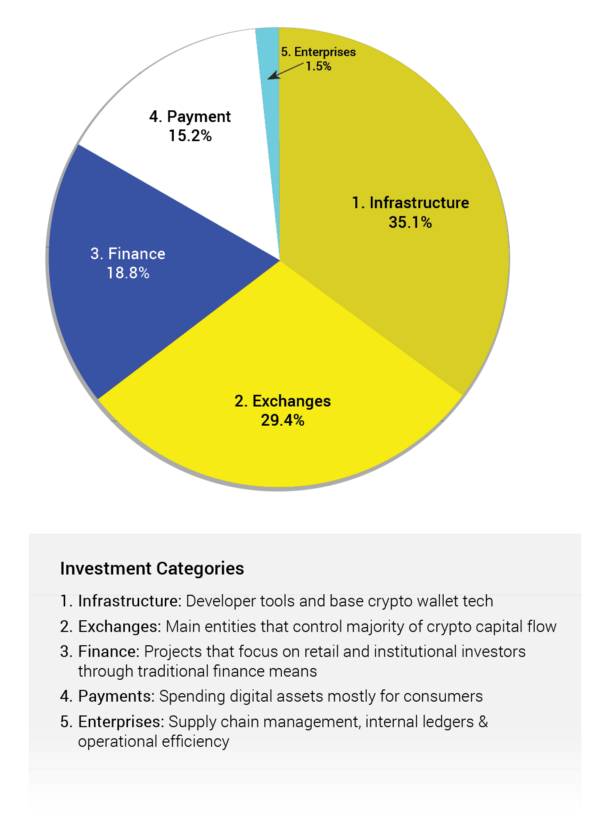 Pantera Capital is one of the first and most successful innovative venture capitalists (VCs)in the blockchain industry.
The pie chart to the right illustrates a breakdown of Pantera's investment strategy, which shows that most of their capital has been allocated towards crypto exchanges and infrastructure. These 2 areas are key as they will provide the core infrastructure for cryptocurrencies to use blockchain technology.
Whether investing or running your exchange yourself having a piece of the crypto infrastructure pie as a long-term investment strategy would likely be a lucrative bet.
---
Why does it make sense to create your own crypto exchange?
Did you know that the word "bitcoin" appears every 3 seconds on social media? This volume suggests that the mass adoption of cryptocurrencies is imminent. However, with the increasing popularity of crypto trading, centralized exchanges have risen as gatekeepers.
Because of this, top centralized exchanges, have the capacity to make a cryptocurrency or token launch fail or succeed as they control a lot of power in the industry. Plus, not to mention popular platforms like CoinMarketCap and CoinGecko require that coin must be listed on a minimum of 2 exchanges.
And, the good news is that white-label exchange software solutions have risen to provide a much-needed alternative since they do not require any expensive listing fees. White-label crypto exchanges give power back to crypto startups by allowing them to get listed easier on platforms like CoinMarketCap and CoinGecko, but also allow crypto startups to be in power and run their own exchange.
---
What are the benefits if you buy a white-label crypto exchange software?
With ready-made software, any company or individual can instantly launch an exchange platform in minutes. The benefits of using a white-label crypto exchange solution boil down to 5 main points:
Cost: You can avoid spending endless hours assembling a development team to build your exchange and save money by using a white-label solution.
Speed: You can instantly get the exchange going. The best white-label exchanges can be deployed in minutes.
Security: The most important part of an exchange is security. Unless your team has cybersecurity experience, then outsourcing it to experts is a no brainer.
Focus: White-label exchange solutions allow business owners to spend more time running and growing their business, resulting in less stress and more focus.
Support: Get reliable support when technical difficulties arise.
White-label exchanges have a much lower barrier to entry when compared to creating an exchange from scratch. This is why the upstart costs for DIY exchange software kits are considerably lower, saving new businesses up to 95% of the upstart costs.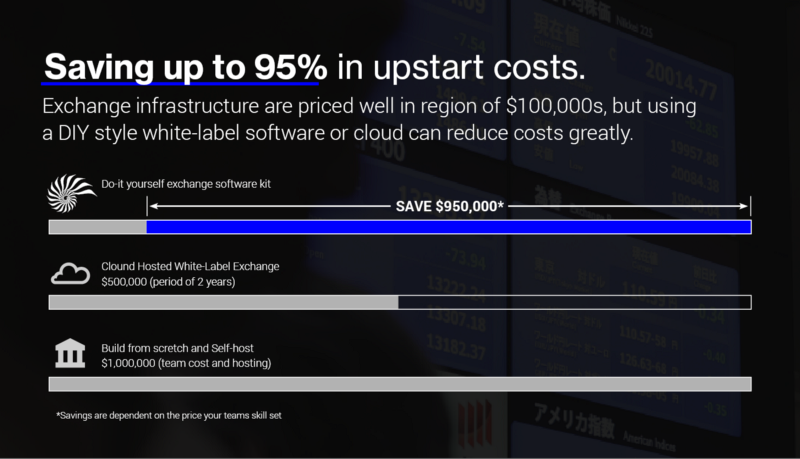 ---
What are the best types of white-label crypto exchange solutions?
The most cost-effective way to get the most out of your white-label solution is to invest the time into researching and testing the options. Many white-label solutions provide a free trial, in that way you'll get to test out to see if you like it before making a decision to buy.
With this in mind, there are 3 main types of white-label exchange solutions that you know. Here's what you need to know:
Cloud Centralized Exchange (CCEX): Typically cloud exchanges are handled by white-label providers. It is important to note that there may be additional fees associated with cloud centralized exchanges, such as an initial server setup fee, or on-going server fees.
Do-it-yourself Centralized Exchanges (DIY CEX): DIY centralized exchanges provide you with all of the parts and tools that are required to launch and run the exchange. This means that you'll have complete control over your exchange business and you will have to organize a hosting provider (eg. Amazon Web Services).
Do-it-yourself Decentralized Exchanges (DIY DEX): Decentralized exchanges run on smart-contracts. They will also automate trade matching and wallet management in a decentralized way.
Deciding on the type of white-label exchange comes down to the team's capabilities to set up and run the software. Generally, the more support needed the higher the costs. Another deciding factor is the importance of generating profits.

For most business use cases, CCEX and DIY CEX are usually the best options. A CCEX, with a month-by-month payment, can be a good way to test the waters first before making any commitment.
In view of this, if you are looking for a long-term growth solution, then you will want a DIY CEX — whereby, you will have to organize the hosting of your exchange yourself. With that in mind, it is important to point out that you will need at least one competent tech member in your team as the exchange will be self-hosted.
If you need to launch quickly, then a white-label exchange provider like bitHolla that offers cloud and DIY solutions is the fastest solution. Simply follow the step-by-step exchange process and get an exchange in minutes.

---
How much does a white-label crypto exchange cost?
The cost for white-label exchange software varies from $3,000 on the low-end, up to $1,000,000 for enterprise solutions. Here is a breakdown of the costs:
$3,000 for low-end (often tagged with a monthly cloud cost or revenue share)
$100,000s mid-range
$1,000,000s enterprise solution

Technical assistance and price
White-label exchange prices vary, not only, due to the type of solution you choose (CCEX, DIY CEX or a DIY DEX), but also in relation to how much technical assistance you will require.
Cloud Centralized Exchange (CCEX): Prices can run as low as $500 a month to $3,000. On the high-end, prices can exceed $10,000 monthly, depending on how much your business requires technical assistance. It is important to note that cheaper options tend to have some sort of revenue share model added on top of the monthly cost, meaning that you may have to give away a percentage of your profits.
Do-it-yourself Centralized Exchanges (DIY CEX): Ranging from free to $10,000 for extremely basic, to $100,000 for mid-range to $1,000,000 for high range well-featured kit. Beware of any services offering prices below $10,000 as it is likely you may have to deal with quality code and security issues.
Do-it-yourself Decentralized Exchanges (DIY DEX): Typically free due to every component being automated and open-sourced. Although free, keep in mind that you will have to decide if your crypto exchange business will be sustainable using experimental technology. That's because if it isn't, in the long run you'll likely end up building your own exchange as the software that you're using will be quite limited.
Cloud centralized exchange fees
White-label cloud centralized exchange solutions often encompass additional fees, such as revenue sharing; or monthly fees for other things like server maintenance.
Revenue sharing: Some exchange cloud services may include a revenue-sharing model in which a percentage of your profits generated from your exchange will go to the white-label provider.
Monthly fees: There are extra fees for server maintenance, which may have a 6 month or 1 year upfront cost.
---
Is a white-label crypto exchange worth it?
One method to calculate if a white-label exchange solution is worth it is to estimate your team's ability to build a regular website from scratch. Here's an industry-standard example for building a commercial website based on average hourly wages.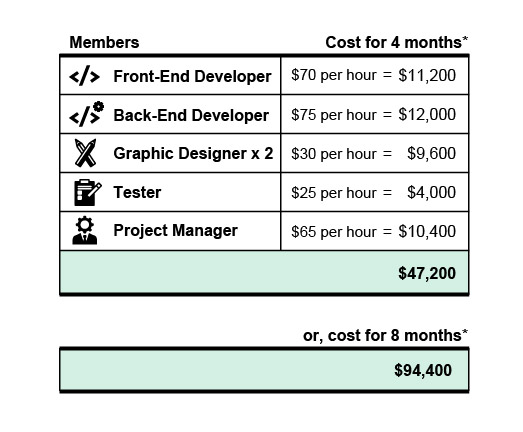 As you can see, the cost to build a regular website from scratch can range from $50,00–$100,000. And, this is just a ballpark number that does not factor in the complexities and skill of programmers (ie. a website developer vs. someone that specializes in blockchain development, machine learning, and cybersecurity).
---
How many programmers are required to build a crypto exchange?
Crypto exchanges are inherently more complicated with wallet management and security policies that naturally increase the build costs. Generally speaking, it will take 5–9 programmers members to build a crypto exchange from scratch.
You will need the following people and skills in your team.
Front-end designers: 1–2 people
Back-end developers: 3 people
Dev-ops engineer: 1 person
Cybersecurity expert: 1–2 people
Agile project manager: 1 person
And, if you're hiring programmers in places like the UK, America, or Australia full-time — then you could be expected to pay anywhere between $500,000 — $900,000 to hire a full team to build a crypto exchange from scratch.
It is important to note that this $500,000 — $900,000 build cost does not factor in other business aspects such as legal, marketing, finance or HR. Meaning, that the "hard cost" will exceed $1,000,000.
---
How long will it take to build a crypto exchange?
Depending on which route you take, if you're hiring a full-time team to build a crypto exchange from scratch it will take a minimum of 4 to 8 months. However, if you are using a white-label exchange solution kit like HollaEx, then it will take less than 24 hours to have your exchange up and running.
Most, white-label solutions will not allow you to download the code or use it. The HollaEx Kit is an exception and made its code freely available on GitHub for you to test and try. Alternatively, you can also you the HollaEx exchange creation wizard on the bitHolla dashboard — this requires zero coding. After going through the steps you can run the exchange on your machine or get a free cloud exchange running.
---
What types of crypto exchange themes are available?
When it comes to the visual style of the exchange, most white-label solutions provide 2 default themes, one light, and the other dark. Much of the customization around the exchange's visual appearance comes down to the flexibility of the solution. These differ greatly.
The best way to test this is to actually use a trial version of the software and see for yourself how simple it is to customize. Most crypto exchange themes will not allow the customer to try before they buy, but will rather, showcase a static demo that isn't trading any real money.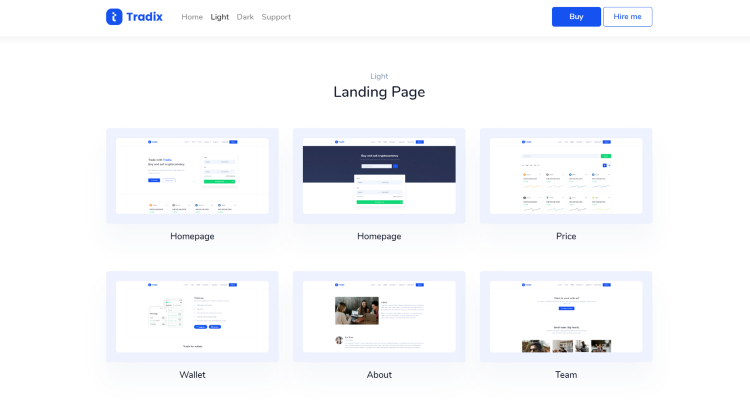 Nearly all crypto exchange templates can be obtained for a small cost in the $30-$150 price range. But not all these templates will be practical because they don't include all things like trading interfaces such as orderbook entries, crypto wallets, and not to mention, highly vulnerable to hackers as the majority of crypto exchange themes are built in either WordPress or HTML. They, however, can be used just for the home page introduction to your exchange for marketing and communication purposes.
For example, this Tradix theme comes complete with a front-end and back end-user interface that you can use for your white-label exchange. Much of the page can be retooled to fit the HollaEx Kit.
By separating the two main UIs like the home page from the trading page, this will give your team greater control and flexibility when changing content such as articles, videos, etc and can be done so through a dedicated CMS tool while separating concerns. Normally teams use a dedicated CMS system that can come at extra costs extra depending on your team skills with tools such as WordPress.
---
How long does it take to launch a white-label crypto exchange?
Launching a white-label exchange should take the shortest time possible. Most white-label exchanges can be launched in between 1–4 weeks. However, some white-label exchange software kits such as bitHolla's exchange kit can be setup within a few minutes.
---
HollaEx Kit: A step-by-step guide to get your crypto exchange up and running in minutes
The HollaEx Kit, is the fastest way to get your crypto exchange up and trading in minutes. First, visit the dashboard and use the crypto exchange wizard.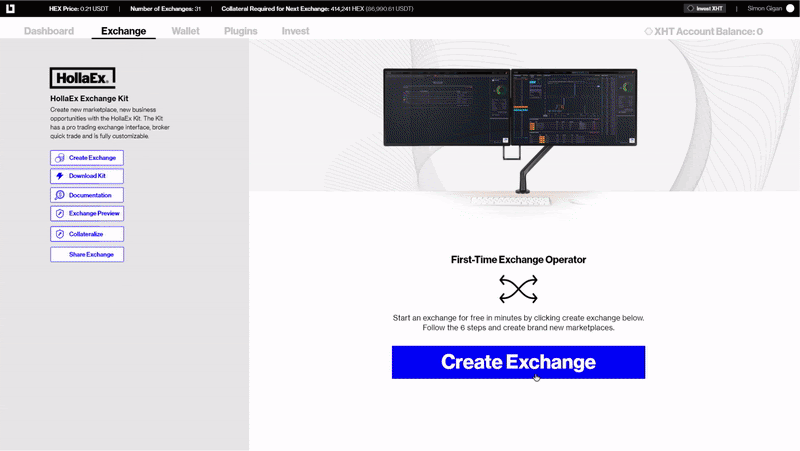 Just follow the steps, download the configuration and click "run." You can also try this for free via dash.bitholla.com or view other exchange projects at dash.bitholla.com/project.
For serious users that want to take their exchange to the next level for business purposes, a HollaEx Tokens (XHT) deposit is required and will give the kit user unlimited exchange software upgrades with no annoying trial version branding on your exchange.
The HollaEx Kit is not just the fastest white-label exchange launcher but also the most cost-effective since bitHolla has designed a token model that makes it a much more affordable approach in the long run.
What are the pros and cons of a white-label crypto exchange software solution?
Choosing a cloud exchange or self-hosting exchange has both pros and cons. Here's what you need to know:
Pros of using a white-label crypto exchange
Speed: Rapid deployment and getting to market faster.
Convenient: Greater convenience and flexibility.
ROI: Higher return on investment for not having to rebuild the wheel again.
Lower costs: Reduces labor cost when compared to building the tech from scratch.
Security: Better security with white-label crypto exchange software kits.
Cons of using a white-label crypto exchange
Design options: The design options can be limited within the exchange kit.
Long-term support long-term: Depending on what solution you use the provider may not provide support.
License: There can be complicated licenses and compliance (depending on the country).
Control: Since the tech is outsourced you will have to give up some control.
Flexibility: There can be difficulty changing from one white-label exchange to another after building the business. This is why it is important for you to choose the best white-label provider.
If you are self-hosting using a DIY exchange solution, such as the HollaEx Kit then one of the major benefits is that your business will be self-reliant. This means, with little dependence on third-parties you can run very lean and minimize overheads.

For teams with some expertise then going down the DIY route is the most cost-effective way with full control and security over the project. The higher skilled your team is the lower the cost to build the exchange.
If you don't have a huge team, then using an exchange cloud solution will require some level of trust in the exchange provider to secure your exchange which is the major trade-off for the added benefit of speed, cost, and convenience.

With enterprise solutions, you gain full support from the exchange white-label solutions provider to expedite your project.
This includes extra labor hours for customization and specialized consultations from a dedicated team to see your exchange through to production and handing it off to your business. This may include hands-on training to get teams up-to-speed with crypto tech and security.

Enterprise white-label solutions are for a business that knows what they want and want it fast and is willing to pay for consultancy, speed, and quality. With a high initial cost setup, you are essentially paying to get full rights to the exchange, which your solution will then be handed over to your team who will take full control.
---
What do you need to know about the HollaEx Exchange Kit?
Today, it is even easier to start your own crypto exchange. However, with that being said, there are so many factors to consider: technology, costs, the quality of code, cloud-based versus remote hosting and speed.
At bitHolla we've built the HollaEx kit to reduce much of the complexity of running a crypto business such as an exchange. Simply follow the steps on the exchange dashboard to get started and launch your own crypto exchange today.
As a way of showcasing the ease and flexibility of using a white-label exchange software, we launched the HollaEx exchange on the 1st of January 2020.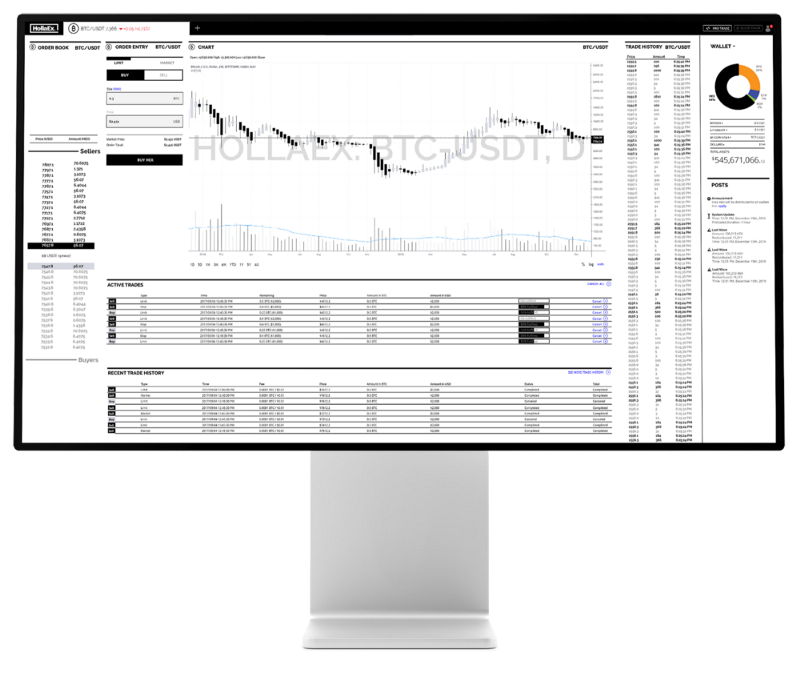 The HollaEx Exchange is a live crypto exchange that uses the HollaEx white-label exchange software kit from bitHolla. You can sign up, deposit and trade live to get the full experience of what you get inside the kit. The HollaEx exchange showcases what the HollaEx Kit can provide.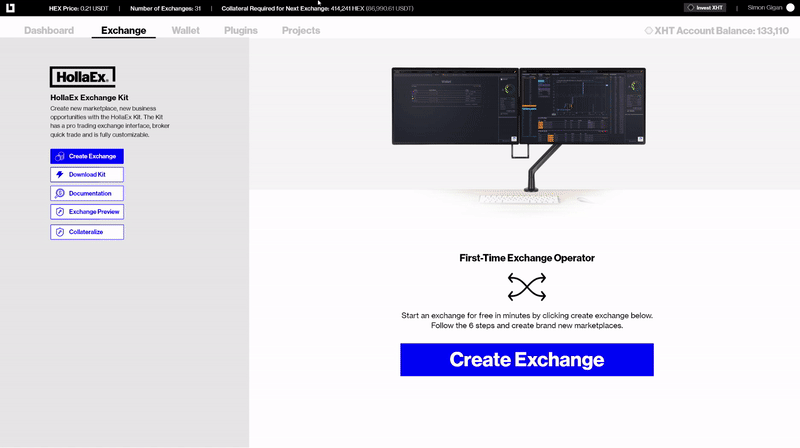 Another way to preview the use of the HollaEx Kit is to go to the projects page on the bitHolla dashboard and check out what others have created using the kit.
Want to start your own crypto exchange today? Start a free trial by clicking here or get a free exchange consultation by contacting sales@bitholla.com
---
For more crypto industry and bitHolla news, check us out on Facebook, Twitter, LinkedIn, and our website!