Incoming new crypto assets to Vault
We would like to share with you news about developments on Vault that will now allow users to add any ERC-20 asset to the Vault wallet. After all the feedback we have received from our customers, we have been at work to make our platform ERC-20 compatible. This means that you can now get access to thousands of ERC-20 assets including XHT, DAI, MKR, BAT, BNB, USDT, ZRX and LEO to mention a few.
About the ERC-20 Assets coming on board Vault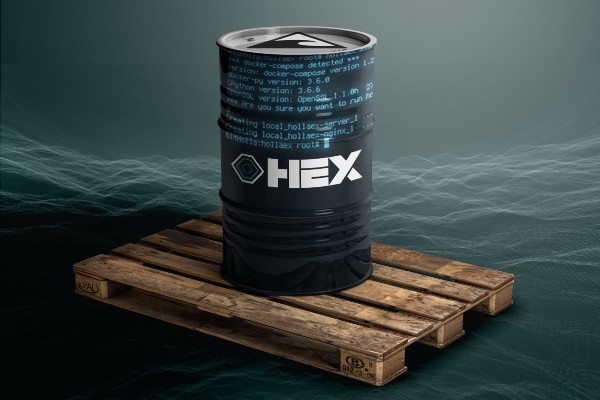 HollaEx Token (XHT)
HollaEx Token is created by bitHolla for the HollaEx Kit. Any holder of enough HollaEx token will be able to run their own exchange by putting up HollaEx token as collateral.
DAI
DAI is an ERC-20 stablecoin designed to have its value synthetically pegged to the USD via automated collateralization of other crypto assets such as ETH. This means that every DAI token should represent roughly $1. Unlike most stablecoins, DAI is touted as a decentralized stablecoin meaning that the stabilization is automated on the blockchain through algorithms that adjust the supply and through MKR.
Maker (MKR)
The Maker token is primarily used to collateralize, stabilize and mint the stablecoin DAI via locking ETH in a smart contract. Holders of MKR are also granted voting rights for the system.
Basic Attention Token (BAT)
Basic Attention Token (BAT) powers the Brave browser and is used to reward internet users who view advertisements using the Brave browser. The Brave browser is a free browser that rewards internet users for their attention.
Binance Coin (BNB)
This ERC-20 token can be used on the Binance exchange to pay for trading fees.
0x (ZRX)
0x pronounced 'zero x', allows decentralized exchanges to trade ERC-20 assets through a variety of products. 0x token is also consumed to use some products such as decentralized trading bots.
Tether (USDT)
Also known as Tether, the USDT is a stablecoin that is designed to mirror the value of the U.S dollar
UNUS SED LEO (LEO)
Like BNB, LEO is an exchange token that offers discounts on trading fees on the Bitfinex exchange.
Other Crypto Assets
Apart from the above-listed ERC-20 tokens, we are also planning to bring on board larger non-ERC-20 crypto assets like Monero (XMR) and Bitcoin Cash (BCH).
Monero (XMR)
Monero was one of the first major privacy coins. Privacy coins are intended to anonymize all transactions in order to protect users' identities.
Bitcoin Cash (BCH)
Bitcoin Cash is a forked version of Bitcoin. Bitcoin Cash allows for more transactions per block which means transactions can be made cheaper and faster.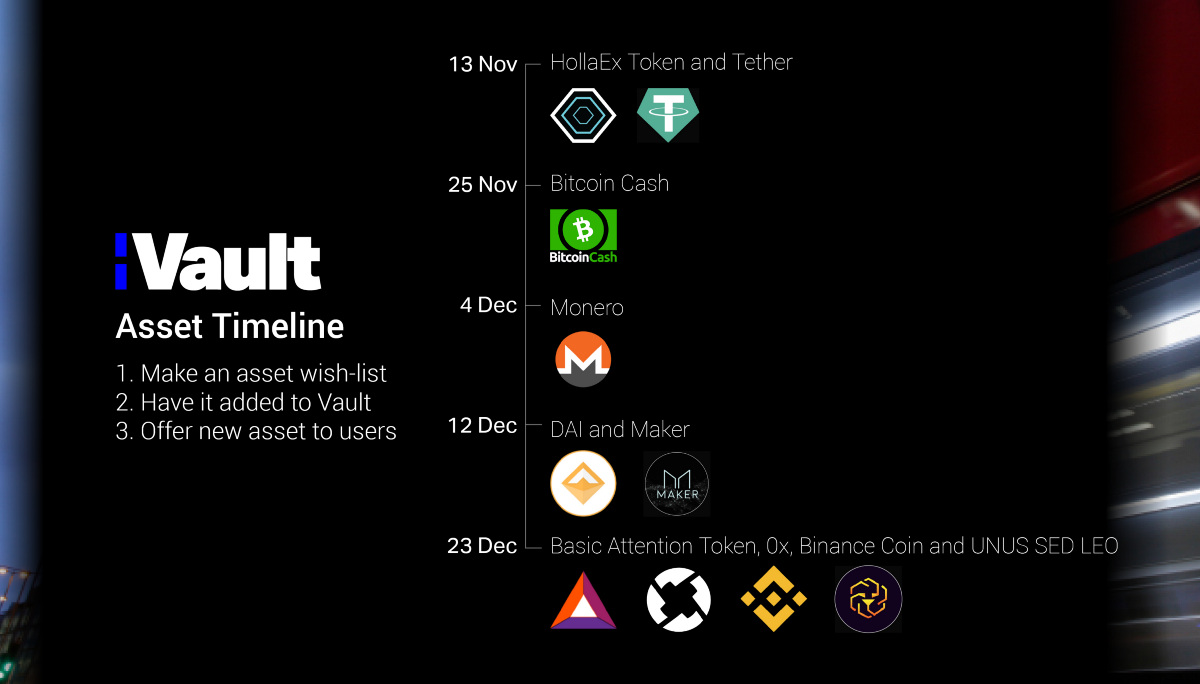 Going forward…
Vault customers will be able to request for crypto assets to be added to the platform. This will enable Vault customers to build and offer these assets within their business system thus creating new business avenues. Stay tuned for newly added assets for early 2020.

For more crypto industry and bitHolla news, check us out on Facebook, Twitter, LinkedIn and our website!